Hamilton Beach Two Way Brewer is an incredible single-serve coffee maker with a 12-cup pot. It is a great machine that stands out in the market due to its modern and sleek design.
Most surprisingly, it is a versatile machine that comes in the category of the top-value coffee makers on the market. Hamilton Beach Two Way Brewer is for those who frequently host dinner parties and commute daily.
This one will be the perfect gadget for you to serve your guests the perfect taste of coffee. Not only the coffee, but it also proved to be an excellent option for making any other hot drink, tea, and even hot chocolate.
This post will give details about the Hamilton Beach Two Way Brewer review, so if you are interested, continue with this post.
Hamilton Beach Two Way Brewer review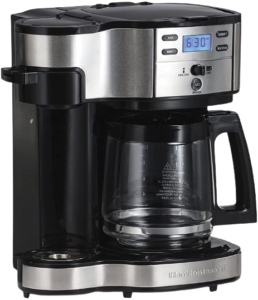 Hamilton Beach's Two-way coffee brewer offers many useful functions, making it an excellent choice for your home brewing needs. With this coffee maker, you can brew in two directions at once. Brewing 12 cups of coffee or single-serve cups is possible using a pod or ground coffee.
Programmable Functionality
Hamilton beach coffee maker comes up with programmable functionality for wake-up-ready coffee. This coffee maker has a built-in clock and timer so that you can get your coffee at the required time.
Choosing the brew strength with the "select a brew" setting
Now, you can tap on the "select a brew button" and choose the brew strength according to your choice. You can easily choose simple standard medium grind coffee or can go for a bold or decaf. You can go for the premium rose brand if you want a rich flavor.
The auto pause and pour
With the help of the auto-pause and pour feature, you can quickly pour a good cup of coffee as the coffee brews. Now you do not have to wait for the coffee until the whole pot has finished brewing.
Finally, no spills
As we all know, mainly when you have a coffee maker in your home, you get a lot of mess with it. It does not matter whether you slowly or quickly pour your coffee; a spill or drip on the counter is always around the corner. But you will be surprised that Hamilton Beach Two Way Brewer will give you the coffee with no spills. That's the thing people praise the most about this coffee maker.
Simple single Cup brewing: does not use k-cup pods
Although the Hamilton beach 2-way brewer will give you 1 cup of coffee using loose-ground coffee beans, it is not compatible with K-cup pods. Using the included mesh scoop, you can easily add flavor, decaf, or premium-roast coffee: scoop, place, and brew.
2-hour automatic shut off
People like me always forget to turn off the coffee maker or any other device, thanks to its 2-hour automatic shut-off feature. Now you do not have to worry about checking whether you turn it off or not. Most surprisingly, it automatically shuts off after 2 hours.
Single Cup or full pot it's your choice
Now it's your choice whether you want to brew a single-serve cup for yourself or a full cup of coffee for your family. If you use ground coffee, you will get an everlasting taste. So we can say that a two-way programmable coffee maker makes it easy to do both. As I also discussed earlier, the Hamilton beach 2-way coffee maker is incompatible with k cup pods.
Specifications
Brand: Hamilton Beach
Style: Maker
Special Features: Programmable coffee maker
Capacity: 96 fluid Ounces
Color: Stainless Steel /Black
Material of coffee maker: Stainless Steel
Features to consider before purchasing the coffee maker
Size and Capacity
The size and capacity of a coffee maker matter a lot because you have to put it on your countertop. So before deciding, ensure that you have measured your countertop and checked the specification of the particular machine you want to buy. If it is a perfect fit for you, then you should go ahead and order it.
Types of Dual Coffee Brewers
Before going into the details of the particular coffee maker, we should know what a dual coffee brewer is. Most surprisingly, a two-way coffee brewer is a machine that can brew in two different quantities or either two types of coffee.
For example, a Hamilton beach 2-way coffee brewer can make espresso or filter coffee according to your requirement. On the other hand, this coffee machine can brew large carafes of coffee and coffee for a single person. Now it's your choice which type of coffee you want to drink and how much coffee is required.
Carafe style
The carafe comes up with two functions, the first is to store the brewed coffee, and the second is to keep it warm. A glass carafe is not very effective in keeping the coffee warm. However, it usually comes with a warming plate, so coffee remains hot for longer. Thermal carafes are marvelous and specially designed to keep the coffee hot for longer.
Safety Features
Safety features are made for the user's safety, and this two-way coffee brewer has an automatic shut-off. This feature will significantly help you ensure that your machine will shut down automatically after a while. Most surprisingly, the automatic shut-off feature is perfect if you usually forget to turn off the machine.
Filters
Filters play a vital role in ensuring the flavor and quality of your brew. Usually, people use either metal filters or paper filters. However, when you use paper filters, it produces a lot of paper waste.
Although metal filters give you some of the sediments, you will get the rich flavor of coffee you ever want. And the main benefit we get from metal filters is that they are permanent and do not cause waste.
Frequently Asked Questions
Does Hamilton Beach Two Way Coffee Brewer work?
Hamilton Beach's coffee brewer has several unique features. Despite the low price, the machine stands out in the market due to its beautiful and modern design. The result perfectly balances authentic ground bean coffee and flavored pod coffee.
In my coffee machine, should I use filtered water?
Using filtered water in your coffee machine is good because it is important. Using filtered water is responsible for the longevity of the machine. Filtered water will make a noticeable difference as you can enjoy your coffee for ten years through this machine.
Can a coffee maker make tea?
Like coffee, we can also brew tea in this countertop coffee maker. Now it's your choice whether to add tea bag tea or loose-leaf tea. After adding the tea bag, add filtered water to your reservoir and place the cafe on the warmer. After this, you have to wait for the tea to brew.
Final Words
This is the detailed Hamilton Beach Two Way Brewer review where you can learn about this machine. Suppose you want to enjoy a large amount of coffee in a short time, then the Hamilton beach 2-way coffee brewer is just made for you.
Now you do not have to go through brewing an entire carafe of coffee. On the other side, for people who do not compromise on the quality of a device, Hamilton beach is the perfect option.
Zakir Hossain is the accountant of Dan Foods Limited (Dan Cake BD). He loves his family, and whenever he gets an opportunity to spend leisure time, he utilizes it by brewing coffee and enjoying it with his family. He has a beautiful baby girl name Sara Zakir.