Many of us want to know how to make Arabic Coffee in the proper ways. Coffee is a traditional drink that boosts energy levels. There are lots of varieties of Coffee. The most exciting thing about tasting different coffee types allows knowing more about a different culture. Arabic Coffee is a popular drink among Arabian people.
The Coffee represents the way of their life. Preparing coffee for friends, guests, and meeting is a prevalent way of their hospitality. Traditional Arabic Coffee is generally not sweetened. But if you want, you can add sugar.
How to Make Arabic Coffee
Let you know how to make Arabic Coffee appropriately:
Ingredients
3 cups water
3 tablespoons finely ground coffee(Try to use Arabic Coffee)
2 tablespoons cardamom
Sugar, as you like. (Not mandatory)
4/5 piece cloves(Optional)
A pinch of Saffron
1 teaspoon rosewater (Not Mandatory)
Dates or other sweet items (Optional)
Types of equipment
All the ingredients
Stove
Tablespoon.
Teaspoon
A small pot is known as Briki
Dallah
Small cup to serve known as Demitasse
Coffee grinder (optional)
Strainer (optional)
Are all your ingredients and equipment ready?
Let us walk through the way of making traditional Arabic Coffee.
Step 1: Fix the Coffee pot or Briki
Briki is a small pot used for making Arabic coffee. The first step in preparing Arabic Coffee is to set up the Briki on the stove with water. You can add sugar if you want. If you do not have Briki, you can use a saucepan or convenient pot.
Step 2: Let the water boil and make the coffee ground
If your coffee is not ground, you have to prepare it by yourself using a coffee grinder.
Step 3: Add Cardamom and Coffee
When the water boils, carefully add your cardamom and ground coffee.
Step 4: Boil again
After adding Cardamom and Coffee, you net to shake it slightly so that it mixes well with the water. The mixture will turn into foam, and you have to keep a close eye because it happens very quickly. When the foam starts to increase, you must prevent it from pouring outside.
You have to cook on low heat to brew the coffee at this stage. Boil it on low heat for about 15-18 minutes.
Step 5: Take off the heat and let the coffee settle
Remove the coffee from the stove to settle it to the bottom.
Step 6: Add cloves and Saffron
After removing it from the stove, you can add ground cloves and small pinches of Saffron if you want.
Step 7: Set up Dallah
First, have to put rosewater to the empty Dallah if you want to add it. Then pour your coffee into the Dallah. If you want, you can use a strainer at this stage.
Step 8: Serve and enjoy
Finally, serve the coffee in Demitasse. Almond sauce or Dates can be served with Arabic Coffee.
Finally, your Arabic Coffee is ready to drink. Enjoy it.
Things to take into consideration
Don't boil on high heat after adding Coffee. It will burn the coffee.
Don't cook for so long. Otherwise, the actual taste will not remain.
If you do not have an Arabic Coffee set, you can use your regular pot. But you have to know the process and measurement properly.
Sugar is not suitable for health. Try to avoid it or choose an alternative.
Arabic Coffee is smooth and has superior flavor. Some advantages make it very popular with its consumer. It has antioxidants which are very useful for the human body. Drinking Arabic Coffee will not hamper your teeth. It helps to improve the metabolism rate in the human body.
Arabic Coffee is also good for hair and skin. So, if you drink Arabic Coffee regularly you will notice a great change in your body.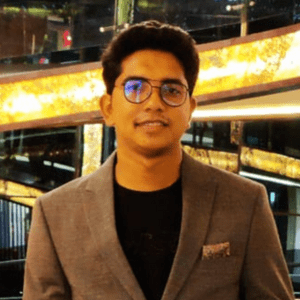 Dr. Maksud Hassan is a medical doctor by profession and the co-founder of www.queekcoffee.com. He is a coffee lover, and he loves to advise people about the health benefits of coffee.